IPLOOK Converged 4G/5G Voice Solution
From 2G/3G to 4G to 5G, voice services in mobile communication networks have experienced different solutions.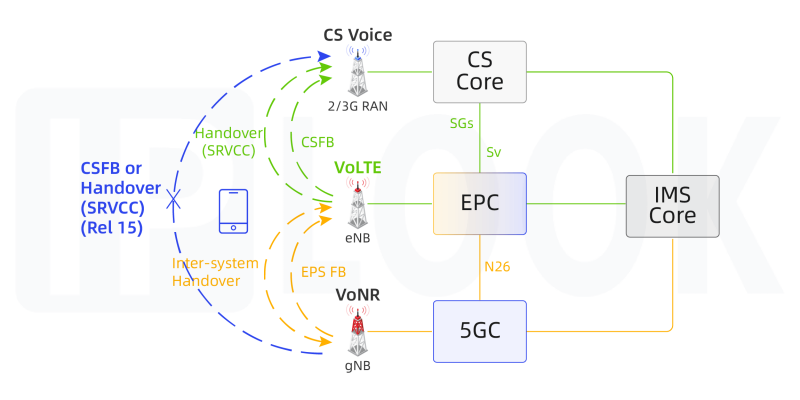 It is not hard to know from the schema that the 2G/3G network use CS voice solutions by CS Core.

While in the 4G all-IP era, both VoLTE (Voice over Long Term Evolution) and CSFB (Circuit Switched Fallback) solutions are used to support voice services.
Here is a brief introduction of CSFB and VoLTE.
• CSFB also called CS Fallback. If a handset is camped on LTE and it does not support VoLTE, then it needs to perform a CSFB to initiate a voice call. CSFB is a mechanism that sends the user from 4G to 2G/3G (CS RAT) where it can successfully complete an CS Voice Call.
• VoLTE refers to providing a IP-based voice service directly through the IMS and LTE network.


Entering the 5G era, the 5G voice solutions are divided into VoNR (Voice over New Radio) and EPS Fallback. Also, 5G can be divided into SA and NSA Networking. More information can be found here. What about EPS Fallback? EPS Fallback is an additional mobility trigger for improving voice KPIs and it enables phones to use the 5GC with NR, but RAN may trigger moving the phone LTE connected to EPC during call establishment.

However
, traditional 2/3G CS voice is gradually being "abandoned", and the 3GPP Rel 15 is not specifying SRVCC from 5G to 2G/3G. Therefore, to safeguard user voice experience and data experience in the 5G era, large-scale commercialization of 5G needs to be premised on a completed VoLTE network.

Choose IPLOOK's converged 4G/5G voice solution that supports a smooth evolution from 2G/3G voice to 4G/5G and supports VoLTE and VoNR, as well as CSFB, and it enables operators to meet a variety of voice application scenarios.