Step-by-step Instructions For How To Become A MVNO
Telecommunication industry must be familiar with MNO and MVNO, but how to become a MVNO?
How to become a MVNO?
Compared with MNO, you can make sure that your MVNO is a cost-efficient Core Network infrastructure. There are lots of methods to launch a MVNO and some approaches are more hands-on than others. A profitable Core Network can define you as successful MVNO. You also need certain elements in order to deploy an MVNO business such as roaming agreements, billing and SIMs.

But, first of all, it's important to know that there are six primary elements to an MVNO that you'll need to figure out:
• Radio Access
• Core Network
• Applications and Services
• Rating and Billing
• Customer Care
• Sales and Marketing


These elements can be purchased from or provided by MNOs, MVNAs, MVNEs, or other telecommunications service providers like IPLOOK. Also, you can follow step-by-step as mentioned below:
• Agreement with MNO for radio infrastructure
• Core Network equipment
• Billing system
• SIMs
1. Agreement with MNO for radio infrastructure
As we mentioned above, MVNO do not have government license to use their own radio frequency. So the first thing to do is to have a roaming agreement with an MNO for the radio network. Once you have a roaming agreement for radio in place we can start talking about your own network infrastructure.

2. Core Network equipment
Because the Core Network equipment can make profits in business, it is the most important part of a MVNO. Here are four types of MVNOs: Branded Resellers, Light MVNOs, Thick MVNOs and Full MVNOs. Since each type of MVNO has a slightly different method to providing the six elements outlined above, this is where it would be helpful to know more about your business.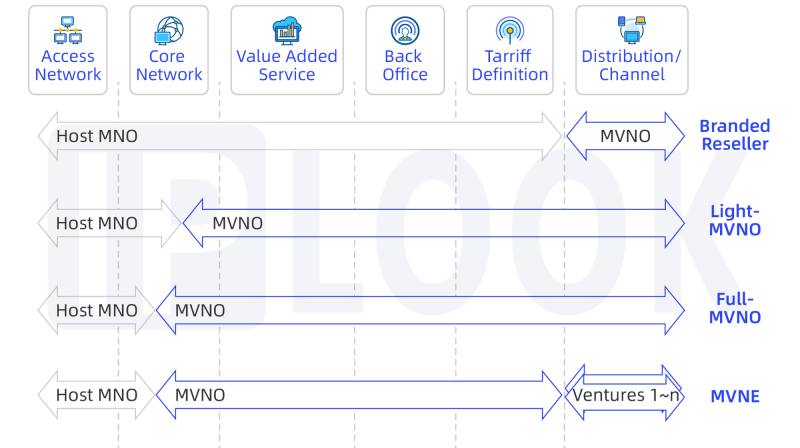 Here is a MVNO model from IPLOOK Technologies.
• Branded Reseller: also called "Skinny MVNO", as the reseller almost totally relies on the MNO's facilities. They do not own any network elements, but may own and operate their own customer care, marketing, and sales operations.

• Light MVNO: also called "Service Provider". The service provider operates its own customer support, marketing, sales and distribution operations, and has the ability to set its tariffs independently from the retail prices set by the MNO.

• Thick MVNO: also called "Enhanced Service Provider". The MVNO manages a more complete technical implementation with its own infrastructure which allows the MVNO more control over its offerings. These MVNOs have a heavier focus on branding, customer-ownership, and differentiation through added services like data and SIM applications.

• Full MVNO: These MVNOs have a network implementation operating essentially the same technology as a mobile network operator. Full MVNOs only lack their own radio networks.
3. Billing systems
The billing system makes each MVNO's business model different. Different types of billing systems can let a MVNO has different profit point. IPLOOK has signed a strategic partnership with AsiaInfo/Neware in order to make our respective products interoperable.We can now provide you with BSS/OSS and core network elements integrated into a cloud-based end-to-end offering.

4. SIMs
SIM cards, which are for authentication and registration to the network, is a critical part to a mobile operator for its subscribers. Each SIM card has an IMSI code with the following structure: MCC, MNC, and MSISDN.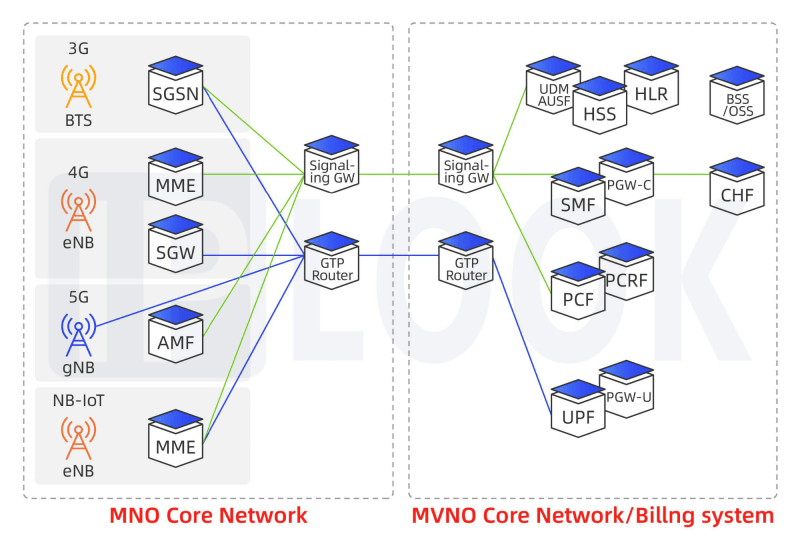 Here is a MVNO end-to-end solution provided by IPLOOK Technologies.
IPLOOK end-to-end MVNO solution has all-in-one features and supports 3G/4G/5G/NB-IoT access, which can provide you a cost-efficient solution and a new exploration of telecommunication. Our server could be located remotely or could be deployed in a data centre or in the Cloud. Meanwhile, our solutions ensure upgrade to 5G smoothly.

As a leading software company, IPLOOK Technologies is mature and eager to provide multiple and customized solutions for MNO, MVNO, WISP and Private Network s. Don't hesitate to contact us!